---

Quintazone
A game for 2-5 players (best with 3). You'll need one stash of Icehouse pyramids per player and one Aquarius deck. Playing time is about 30 minutes.
Setting up
Give each player pyramids from a different stash:
2 players: a whole stash each
3 players: 9 pyramids each (3 of each size)
4-5 players: 6 pyramids each (2 of each size)
Set aside the 15 Action cards from the deck; they will not be used. Place a four-panel Element card face-up in the middle of the table (it doesn't matter which one). Shuffle the remaining 39 Element cards and deal a hand of 5 to each player. Shuffle the 5 Goal cards and deal 1 to each player. Players may look at their Goal cards but should keep them hidden from the others until game end.
Playing
The player whose age is closest to a multiple of 5 goes first. Play continues clockwise around the table. A turn consists of the following two actions, in either order:
You must place a card.
You may place a pyramid.
At the end of your turn, draw an Element card from the deck, if there are any remaining.
Placing a card
Cards are placed face up in the center of the table according to standard Aquarius placement rules:
All players build on the same playing field. Each Element card must be played so that one of the elements on it matches up with a card already in play. Diagonal connections don't count. Cards cannot be placed skewed or perpendicular to one another.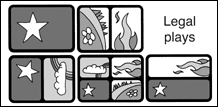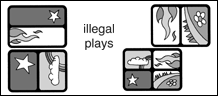 Placing a pyramid
A Zone is a connected set of panels of the same element. A pyramid may be placed in any Zone that does not already contain a pyramid. Zones containing pyramids may become merged into a single Zone through later card placement, but at the time of pyramid placement the Zone must be empty. Pyramids are never moved or removed after they are placed.
Game end and scoring
The game ends when all Element cards have been placed. All Goal cards are then revealed, and every pyramid scores points for its owner: its size (1, 2, or 3) multiplied by the size (number of cards) of its Zone, doubled if the element of the Zone matches the player's Goal card. The player with the most total points wins.
---
Doug Orleans <dougo@place.org> Last modified: Tue Jan 18 17:20:29 EST 2005